Trachycarpus takil
From Palmpedia - Palm Grower's Guide
Trachycarpus
(trahk-ee-KAHR-puhs)
takil ((TAH-kihl)

Photo-Rare Palm Seeds.com
Scientific Classification
Genus:
Trachycarpus
(trahk-ee-KAHR-puhs)
Species:

takil ((TAH-kihl)
Synonyms
None set.
Native Continent
Asia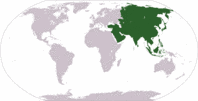 Morphology
Culture
Survivability index
Common names
Kumaon Palm, kalamuni
Habitat and Distribution
Nepal, West Himalaya. It is found in cool, moist oak forests in the foothills of the
Himalaya in the Kumaon Division of northwestern India, and possibly in adjacent western Nepal where it grows at altitudes of 1,800–2,700 metres (5,400–8,200 feet). Here the winters are bitterly cold and snow is common. (Tobias Spanner & Martin Gibbons)
Description
A medium sized, solitary fan palm to about 10–15metres (30–46 feet) tall, with a rough, thin trunk, and a fibrous crown. It is similar to T. fortunei, but it is taller, more vigorous, and larger in all its parts. Also, its fibres are thinner and shed readily, leaving a naturally bare trunk. (Tobias Spanner & Martin Gibbons) Editing by edric.
It grows to 10–15 metres (33–49 ft) tall, with a rough trunk covered in fiber from the old leaf bases; it is easily distinguishable from Trachycarpus fortunei from its infancy by the young plants having the tendency to growing obliquely; by the young trunk being distinctly conical; by the adult trunk covered with very tightly clasping (not ruffled) chestnut brown fibers; by the short, triangular, erect ligulas on the leaf sheaths of the terminal shoot; by the leaves more spreading and those of the previous year being placed just below the last flowering spadices, reflexed, although still alive, by the leaf blade being irregularly divided only down to about the middle; finally by the fruit being more distinctly uniform or considerably broader than high. Additionally, the first leaves of sprouting T. takil seeds are duplicate (having only two ridges differing from T. fortunei with its quadruplicate first leaves.)
Culture
Likes a sunny, well drained position. Easy to grow but but slow. Reputed to be the most cold hardy trunking palm, withstanding temperatures down to –15 deg. C. (5 deg. F.).
Comments and Curiosities
read more
This species is perhaps the hardiest of all Trachycarpus, coming from cool and moist oak forests in the Himalayas in Kumaon, northern India, to an altitude of over 2400 m (8000 ft.) a.s.l., perhaps reaching as high as 2700 m (8900 ft.), where the winters can be bitterly cold and snow is common. T. takil is most closely related and most similar in appearance to T. oreophilus and when older, has large, palmate leaves with even divisions and whitish undersides. It is most frequently confused with T. fortunei, however, but mature T. takil are generally taller, more vigorous, and larger in all parts. The three best features to tell the two apart are: The fibrous leaf bases in the center of the crown of of T. takil have no or only very short, frayed tips while the leaf bases of mature T. fortunei have long, straplike appendages. The divisions in a mature mature leaf of T. takil all go to approximately the same depth, while the leaves of T. fortunei are usually very unevenly divided. As a result, the leaf of T. takil has a neater, more clipped and manicured appearance than that of T. fortunei and resembles more the perfect leaf of T. martianus. - The first true strap leaf after germination, the eophyll, is half as wide in T. takil as it is in T. fortunei, sporting usually only two rather than four folds. There is probably no other palm that has caused so much controversy as T. takil over its identity and identification since its rediscovery in India in 1991 by Martin Gibbons and Wilko Karmelk. Countless confusions have marked that recent history. The palm was believed nearly extinct in the wild and unfortunately, very few true seeds actually ever made it into cultivation. Nearly all of what has been sold until about 2009 as T. takil came from cultivated sources and is actually a form of T. fortunei, widely grown in northern India since the days of the British rule (you can find this in our archive as Trachycarpus fortunei "Naini Tal"). Since 2009, several reports of sizable stands of T. takil in the hills above Kalamuni documented that the palm fortunately clings to life by more than just a thread and is not so critically endangered as previously thought. This is where seeds are now available from. Trachycarpus takil is undoubtedly one of the hardiest palms, as evidenced by its high altitude habitat. It receives considerable frost and snow there every year. Since the palm is so rare in cultivation, little is known, however, on its precise cold tolerance, but there is good reason to believe it will outperform Trachycarpus fortunei and may be on a par with the dwarf T. nanus and Rhapidophyllum hystrix. (RPS.com)
This beauty comes from Kalamuni in the district of Uttarakhand in the high mountains of Northern India. The Nanda devi mountain is only 10 km away (7800 metre). These plants grow between 2200 and 2800 metres and tolerate temperatures as low as -10C in their native habitat! We consider them to be the best and most hardy of all Trachycarpus! Stiffer leaves than fortunei with silver undersides - really wonderful to behold. The fibre and leaf shape seem much more similar to Trachycarpus princeps, manipur and oreophilus, than to fortunei. This palm grows quite close to the permanent snowline and the locals have confirmed they can experience several months of snow in winter at the higher elevations, so it promises to be one of the cold-hardiest palms in existence! Following the travels of Martin Gibbons in the early nineties to 'rediscover' this plant we regularly undertake journeys to find the Takil ourselves and have harvested our own seeds from high in the Himalayas! We have been cultivating our own plants since 2007. (gardenpalms.com)
It was first discovered by a Major Madden, a British Army colonel with a passion for botany stationed in the Himalayas during the 1840s. Unfortunately, while Madden produced precise descriptions of both the plant and location, he made the fatal mistake of assuming it to be Trachycarpus martianus, failing to realize it was a separate species, thus losing the chance to claim its discovery. First officially described by the Italian Botanist Odoardo Beccari in 1905 ("Le Palme del Genere Trachycarpus", in Webbia I). The leaves all permanent as in Tr. fortunei. Petioles about as long as the blade. Blade 3/4 orbicular, 1–1.2 m in diameter, irregularly divided down to about the middle into 45–50 segments, 60-85 cm in length from the top of the petiole (hastula) to the apex of the median segments, the latter stiff and erect, not with drooping tips. (Beccari, O. 1931: Asiatic palms: Corypheae. Ann.Royal Bot. Gard. 13, Calcutta). It is one of the cold hardiest palms to produce a tall trunk, tolerating temperatures down to −14 °C to possibly −20 °C, but with leaf damages or total defoliation.
Some plants in cultivation in the USA under the name Trachycarpus takil are actually misnamed specimens of the dwarf form of T. fortunei, also known as T. wagnerianus.
"For many years in the nursery trade what was called 'Trachycarpus takil' was actually Trachycarpus wagnerianus, and that error still continues to this day, though, thankfully, many are starting to figure out the mistake. They are very different looking palms. This is the biggest of all the Trachycarpus. I have yet to see a mature one in person, but photos of plants taken in Asia show it to be a large tree, somewhat similar in appearance to the common windmill palm, Trachycarpus fortunei, only somewhat larger. It has a supposedly uniquely asymetric leaf where it attaches to the petiole (an area called the hosta) so maturing plants should be easy to identify. However, there has been some thoughtful deliberation and research that has gone into the history of T takil... And there is some doubts as to whether this species is really that different from fortunei to warrant a different species recognition (other than the geographic source- this being from India and T fortunei China). Many T takils grown today are from seed off European palms that are probably hybrids. And the 'uniquely' twisted hastula will sometimes show up in a batch of T fortunei seed.. .and the size of T fortunei varies tremendously depending on cultivational practices and parentage. Trachycarpus wagnerianus is a much smaller palm with stiff leaves, that do not droop at all. Though not always a good indicator, T wagnerianus tends to have a 'bend' in the trunk right at ground level, as though the palm were growing at the wrong angle at first. This is supposedly not the case with T takil. Someday soon Gibbons and Spanner, the prime collectors and distributors of this genus throughout the world are supposed to be putting out a comprehensive book on the genus that will, I hope, finally clear all the mess up. IN the mean time, anyone who has a tree any larger than a seedling that could be grown from seed earlier than 1994, when the species was rediscovered, is probably the owner of T fortunei or some hybrid. By the way, so far this palm seems pretty slow, so about 1-2' of trunk is all we would expect by this point in time (2005)... any thing larger is truly suspect at really being a T takil (if indeed there really is such a beast). I have what is supposed to be a T takil seedling grown form Indian seed, and will upload some photos of it as soon as it starts to make some fan leaves." (Geoff Stein)
External Links
References
Phonetic spelling of Latin names by edric.
Special thanks to Geoff Stein, (Palmbob) for his hundreds of photos.
Special thanks to Palmweb.org, Dr. John Dransfield, Dr. Bill Baker & team, for their volumes of information and photos.
Glossary of Palm Terms; Based on the glossary in Dransfield, J., N.W. Uhl, C.B. Asmussen-Lange, W.J. Baker, M.M. Harley & C.E. Lewis. 2008. Genera Palmarum - Evolution and Classification of the Palms. Royal Botanic Gardens, Kew. All images copyright of the artists and photographers (see images for credits).

Many Special Thanks to Ed Vaile for his long hours of tireless editing and numerous contributions.