Coccothrinax ekmanii
From Palmpedia - Palm Grower's Guide
Coccothrinax (koh-koh-TRIH-naks) ekmanii (ek-mahn'-ee)

Dominican Republic. Photo by Dr. John Dransfield, Royal Botanic Gardens, Kew/Palmweb.
Scientific Classification
Genus:
Coccothrinax (koh-koh-TRIH-naks)
Species:
ekmanii (ek-mahn'-ee)
Synonyms
None set.
Native Continent
America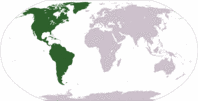 Morphology
Culture
Survivability index
Common names
Gouane palm
Habitat and Distribution
Hispaniola. Haiti, and Dominican Republic. Endemic to dry scrub forest, on rocky limestone hills, or near the sea; often growing on pure dogstooth limestone.
Description
A medium sized solitary fan palm with heavily segmented, shiny bluish green leaves. The trunk is covered in thick, woody fibres which form a striking rhomboid criss-cross pattern. Trees are single-stemmed, between 3 and 15 metres tall with stems 5 to 8 (occasionally 20) centimetres in diameter. The fruit is brownish, 5–6 millimetres in diameter. Monoecious, unarmed.
Culture
Full sun, excellent drainage, and tropical temperatures. Drought and salt tolerant. Cold Hardiness Zone: 10b
Comments and Curiosities
Etymology: The specific epithet (species name) honors the early 20th century Swedish botanist, Erik Ekman, who worked extensively in the Caribbean area.
A very slow growing species.
External Links
References
Phonetic spelling of Latin names by edric.
Special thanks to Geoff Stein, (Palmbob) for his hundreds of photos.
Special thanks to Palmweb.org, Dr. John Dransfield, Dr. Bill Baker & team, for their volumes of information and photos.
Glossary of Palm Terms; Based on the glossary in Dransfield, J., N.W. Uhl, C.B. Asmussen-Lange, W.J. Baker, M.M. Harley & C.E. Lewis. 2008. Genera Palmarum - Evolution and Classification of the Palms. Royal Botanic Gardens, Kew. All images copyright of the artists and photographers (see images for credits).

Many Special Thanks to Ed Vaile for his long hours of tireless editing and numerous contributions.