Chamaedorea benziei
From Palmpedia - Palm Grower's Guide
Chamaedorea
(kahm-eh-doh-REH-ah)
benziei (ben-zee'-ee)

Female inflorescence. Northern California. Photo by Edith Bergstrom
Scientific Classification
Genus:
Chamaedorea
(kahm-eh-doh-REH-ah)
Species:

benziei (ben-zee'-ee)
Synonyms
None set.
Native Continent
America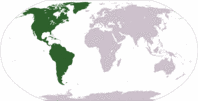 Morphology
Culture
Survivability index
Common names
None.
Habitat and Distribution
Chamaedorea benziei
is found in the Southeast Mexican montane rain forest of Chiapas.
It is found at the higher elevations of 1500-1600 m in the pine, oak, and liquidamber rain forest on the Pacific slopes.
Description
Chamaedorea benziei is a robust solitary palm to a height of 5 m, with a green prominenly ringed stem of 2.5-3.5 cm in diameter. It's pinnae are among the thickest in the genus and covered lightly with a waxy, glaucous coating. C. benziei shares some characteristics in appearance, and is probably closely related, to C. woodsoniana.
"This is turning out to be one of the largest Chamaedoreas, if not THE largest... but still not sure if it's really a new species, or just one that hasn't been properly identified, yet. It has a large, ringed green stem up to 2" in diameter, and long, arching deep green pinnate leaves with lancelote leaflets fairly spread apart along the rachis. No one knows where this palm first came from, but it started to show up on the nursery scene about 1993 and has recently become very popular, at least here in California, as it is a proven and hardy grower-very easy palm. Has long, upright stiff inflorescences that are bright orange and come from below the leaves." (Geoff Stein 2004)
Culture
Because it appears for a long time as if this plant has been incorrectly identified, you can click on the banner below to get the full story on its apparent correct name of Chamaedorea carchensis.
Partly shady, moist, but well drained position.
Comments and Curiosities
The specific epithet honors James Benzie of Orange, California, a collector and good friend of Don Hodel who described the species in 1992.
"In the 1950s, the late David Barry, Jr. of Los Angeles grew the only plants known in cultivation from seeds that Tom MacDougall had collected in southwest Mexico without a specific locality. Apparently, Barry later sold his only surviving plant to Jack Ingwersen in Oceanside, California, and that specimen from which the type originated still exists in the Ingwersen Nursery."
External Links
References
Phonetic spelling of Latin names by edric.
Special thanks to Geoff Stein, (Palmbob) for his hundreds of photos.
Special thanks to Palmweb.org, Dr. John Dransfield, Dr. Bill Baker & team, for their volumes of information and photos.
Glossary of Palm Terms; Based on the glossary in Dransfield, J., N.W. Uhl, C.B. Asmussen-Lange, W.J. Baker, M.M. Harley & C.E. Lewis. 2008. Genera Palmarum - Evolution and Classification of the Palms. Royal Botanic Gardens, Kew. All images copyright of the artists and photographers (see images for credits).
Hodel, D.R.1992. Chamaedorea Palms, The Species and Their Cultivation. The International Palm Society.

Many Special Thanks to Ed Vaile for his long hours of tireless editing and numerous contributions.