Washingtonia filibusta
From Palmpedia - Palm Grower's Guide
Washingtonia x
(Washing-tohn-EE-ah)
filibusta (fihl-ih-BOOST-tah)
filifera (fih-lih-FEHR-ah) x robusta (roh-BOOS-tah)

Desert Trace Way, Indio, California.
Scientific Classification
Genus:
Washingtonia x
(Washing-tohn-EE-ah)
Species:

filibusta (fihl-ih-BOOST-tah)
filifera (fih-lih-FEHR-ah) x robusta (roh-BOOS-tah)
Synonyms
None set.
Native Continent
America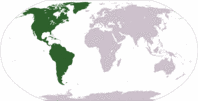 Morphology
Culture
Survivability index
Common names
None.
Habitat and Distribution
Description
Similar and intermediate to both its parents. Differing from W. filifera in its more slender stem; smaller, denser leaf canopy; smaller, brighter green leaves with a small patch of white tomentum abaxially at petiole and blade junction; and shorter inflorescences. Differing from W. robusta in its more robust stem not abruptly flared at the base; larger, more expansive canopy; larger, but lighter, medium green leaves; and longer inflorescences. Now described!
Culture
The same as for robusta.
Comments and Curiosities
read more
Washingtonia × filibusta, a hybrid between W. filifera H. Wendl. and W. robusta H. Wendl., is named and described from a cultivated plant in Indio, California. Washingtonia filifera (California fan palm) and W. robusta (Mexican fan palm) have long been cultivated and are especially common landscape subjects in California, western Arizona, and southern Nevada as well as other regions with a suitable climate. They frequently grow side-by-side in landscape settings, providing ample opportunity for hybridization. Hybrid plants are intermediate between the parents and for the past 30 years have become common subjects in the nursery and landscape trade, where they are recognized for their different appearance and cultivation requirements.
Washingtonia filifera from northern Baja California, México, southeastern California, and southwestern Arizona, and W. robusta from southern Baja California and western Sonora, México (Bailey 1936; Henderson et al. 1995) have long been cultivated as landscape subjects in the southwestern USA and other regions with a suitable climate. In California in particular, where they are much prized for their ease of culture, fast growth rate, and handsome nature, they are two of the most common ornamental palms and are frequently found growing together, adorning landscapes, streets, gardens, parks, and other public areas.
Over the last 30 years or so growers, landscapers, arborists, horticulturists, and botanists have recognized that intermediate forms between the two species have become common in the nursery trade and landscape. These intermediate forms differ so substantially from either parent in their appearance and, to some extent, their cultivation requirements that growers and landscapers informally coined a name for them, "filibusta," which I have adopted as the epithet for this hybrid species. Figure 4 (below) illustrates the three taxa together.
The differences between Washingtonia × filibusta and its parents can be critical to those who grow and use them in the nursery and landscape trades. Because the palms are frequently and effectively used in homogenous, mass plantings, especially lining streets, boulevards, and other thoroughfares, defining large open spaces, or "softening" buildings or other structures, it is critical to have uniform subjects that differ little or not at all in their appearance. When used in such a manner, the hybrid and its two parent trees are sufficiently different to warrant specifying one taxon while excluding the other two.
Other than their differences in appearance, Washingtonia × filibusta tends to grow significantly faster than W. filifera and as fast as or slightly faster than W. robusta. Perhaps most critical, though, is susceptibility to the fungal disease diamond scale, which causes black spotting, chlorosis and necrosis, and premature death of leaves. Only W. filifera is susceptible to this disease and then only in cooler, moister coastal areas and valleys in California subject to marine influence. It does not attack W. filifera in desert areas while W. robusta is completely resistant anywhere. Unfortunately, W. × filibusta is susceptible to diamond scale, with the severity of the disease varying by which parent has a greater influence in the hybrid.
Unless growers gather seeds from wild, natural stands or cultivated trees of one species sufficiently isolated to preclude hybridization, Washingtonia × filibusta will continue to become more common in the landscape, eventually replacing W. filifera and W. robusta. This trend is of considerable concern in urban areas in the Coachella Valley, such as Palm Springs, where Washingtonia × filibusta or cultivated W. robusta could genetically contaminate nearby wild stands of W. filifera.
This a hybrid cross between the California fan palm (Washingtonia filifera) and the Mexican fan palm (Washingtonia robusta). The California fan palm is the more cold hardy of the two but often struggles when young with excessive humidity. The robusta thrives in humid areas but is less cold hardy by up to 10 degrees or more. The hybrid of these two (filibusta) combines the good traits of both parents and is often the best choice in the humid southeast U.S.
It's supposed to be the best of both worlds. Hardier than robusta, more tolerant of humidity and salt than filifera, intermediate in appearance between the two. I personally like the beefy appearance of filifera, so a robusta with a little filifera in it looks good in my opinion. Sometimes nursery grown, over-pruned robustas are too scrawny looking for my taste. I hear the increased cold tolerance of the hybrid (though definitely present) isn't all that pronounced, so, if someone is in a very marginal area that will support filifera, I'd say probably best to stick with filifera. Also, the Washingtonia genus hybridizes very readily, and it's likely that much of what is sold as either is really a hybrid somewhere along the line anyway, any washy you see is just a spot along a wide spectrum of variability and hybridity (if that's not a word, I just made it up). It's hard to get a pure strain. (Xerarch)
IMAGE GALLERY

Out in an exposed location, it's canopy was mostly unscathed while pure robustas nearby crumbled and even died with light freezing rain and upper teens. Looks like this one got mostly filifera traits. Love the thick trunk and huge, lush crown. Filibustas vary so greatly, as I've seen pictures of some that reportedly endured the aforementioned conditions and completely fried. The ones with more filifera traits seem to be the way to go in colder areas. Photo by Matt S.
External Links
References
Phonetic spelling of Latin names by edric.
Special thanks to Geoff Stein, (Palmbob) for his hundreds of photos.
Special thanks to Palmweb.org, Dr. John Dransfield, Dr. Bill Baker & team, for their volumes of information and photos.
Glossary of Palm Terms; Based on the glossary in Dransfield, J., N.W. Uhl, C.B. Asmussen-Lange, W.J. Baker, M.M. Harley & C.E. Lewis. 2008. Genera Palmarum - Evolution and Classification of the Palms. Royal Botanic Gardens, Kew. All images copyright of the artists and photographers (see images for credits).

Many Special Thanks to Ed Vaile for his long hours of tireless editing and numerous contributions.