Cyrtostachys renda
From Palmpedia - Palm Grower's Guide
Cyrtostachys (sihr-toh-STAHK-iss)
renda (REHN-dah)

Carara National Park, 2008 costa Rica. Photo by Ryan D. Gallivan.
Scientific Classification
Genus:
Cyrtostachys (sihr-toh-STAHK-iss)
Species:

renda (REHN-dah)
Synonyms
Cyrtostachys lakka
Native Continent
Asia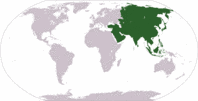 Morphology
Habit:
Clustering
Height:
6m
Culture
Survivability index
Common names
Lipstick palm, Red Sealing Wax Palm
Habitat and Distribution
Cyrtostachys renda
is endemic to Borneo, Malaya, Sumatera, and Thailand. This is the
only species found to the west of Wallace's Line, occurring in the southern part of Thailand, Malay Peninsula, Sumatra and Borneo. Cyrtostachys renda grows in lowland peat swamp forest, especially in coastal areas, but more rarely occurs in peat swamps in uplands from 0 – 500 m above sea level. (Ch.D. Heatubun. 2009)/Palmweb.
Description
Slender, clustering palm with up to about 3 or more adult stems up to 15 (– 20) m high. Stem about 6 – 10 cm in diam., green with greyish stripes or yellow with somewhat greenish and purplish stripes, internodes 15 – 24 cm long, crown appearing shuttle-cock shaped. Leaves 7 – 10 per crown, erect, stiff, to 150 cm long; sheath tubular, about 100 cm long, forming distinct crownshaft, scarlet to bright red, with scattered black thick scales; petiole elongate, 5 – 50 cm long, 1.5 – 2.5 cm wide and 1 – 2 cm thick at the base, channelled adaxially, rounded abaxially, red, indumentum as sheath; leaflets regularly arranged, leathery, 26 – 40 leaflets on each side, 56 – 107 × 3 – 6 cm at middle portion, apical leaflets 10 – 20 × 1 – 2 cm, briefly pointed with long tip and sometimes notched at apices, green, discolorous when dried, glaucous adaxially, waxy white abaxially, mid-vein with discontinuous membranous brown scales. Inflorescence strongly divaricate, to 90 cm long, branched to 2 (possibly 3) orders, creamy, green to dark purplish-red; peduncle 5 – 8 cm long; rachilla 27 – 73.5 cm long and 4 – 6 mm in diam., calyx persistent on rachillae when fruits fallen off; pits 2 – 5 mm in diam., 5 – 7 pits per 1 cm rachilla length. Staminate flowers 2 – 2.5 × 2 – 3 mm, asymmetrical; sepals 1.8 – 2 × 2 mm, imbricate, rounded, strongly keeled; petals 1 – 2 × 1 – 1.8 mm, triangular, brown at apex and base; stamens 12 – 15; filaments 0.7 – 1 × 0.2 – 0.3mm; anthers 1 – 1.5 × 0.5 – 0.8mm; pollen size, long axis 36 – 43 μm, short axis 27 – 33 μm, proximal wall thickness 1.5 – 2 μm, distal wall thickness not observed, tectum surface microfossulate-rugulate, trichotomosulcate grains present; pistillode 0.7 – 1 × 0.2 – 0.5 mm, trifid. Pistillate flowers 4 – 5 × 3 – 4 mm; sepals 3 – 4 × 2 – 3 mm, imbricate, strongly keeled, dark brown to black; petals 3 – 3.5 × 2 – 2.5 mm; gynoecium 3.5 × 1.5 mm (including three recurved stigma 0.5 – 1 mm); staminodes circular, 0.5 – 1 mm height. Fruits 7 – 10 × 4 – 7 mm, ellipsoid to ovoid, light green becoming black when ripe. Seeds 4 – 5 × 3 – 5 × 3 – 5, ellipsoid to ovoid. (Ch.D. Heatubun. 2009)/Palmweb. Editing by edric.
Cyrtostachys renda, differs from all other species in its genus, in the bright red crownshaft and leaf sheath, the lowest number of pinnae (26 – 40 on each side), the pinnae being waxy white abaxially, the inflorescence branched mostly to 2 orders (possibly up to 3), the tectum surface of pollen rugulate, and its preferred habitat in lowland peat swamp forest, in southern Thailand, Malay Peninsula, Sumatra and Borneo. In the protologue of Cyrtostachys renda, no material is cited, although a reference is made to Blume's account in Rumphia, published some years later, in which the Korthals specimen is mentioned (Blume 1838, 1843). We formally designate this specimen as lectotype. In the case of C. lakka, Beccari (1885) cited two specimens, Beccari PB 2674 and 4038, both of which are extant at FI. Harold E. Moore annotated Beccari PB 2674 (FI) as lectotype in 1956, but to our knowledge did not publish this lectotypification. We have formalised this typification here. The transfer of Cyrtostachys lakka to a synonym of C. renda has already been made by Whitmore (1982). The bright green stems, and brilliant red to orange crownshafts, make Cyrtostachys renda a highly desirable and widely cultivated ornamental. Infraspecific taxa have been described, from cultivation and the number of these could increase in parallel to horticultural demand. Ellison & Ellison (2001) introduced two cultivars, C. renda 'Apple' and C. renda 'Orange Crownshaft', followed by Waddel (2002) with his C. renda 'Theodora Buhler'. Before them, Tucker (1992) reported, that in Singapore Botanic Garden grew C. renda 'Ruby' and that it was one of the most treasured specimens of all, and he also discussed a strange brown crownshafted form of C. renda in Florida. All the cultivars of C. renda were described based on different stem and crownshaft colours. (Ch.D. Heatubun. 2009)/Palmweb.
Culture
Tropical. Hardiness: USDA zone: 11
Comments and Curiosities
Uses: This palm has limited traditional uses; stems are used for flooring and leaves for thatch. It is, however, a highly desirable and widely cultivated ornamental for tropical regions.
Who hasn't lusted after this tropical beauty, with its scarlet crownshaft and petioles, red as sealing wax. Frustratingly, they grow like weeds in South-East Asia, yet are so rarely available elsewhere. The small seeds germinate rapidly and the subsequent seedlings show color from quite a young age. These palms require tropical conditions but will also grow happily in the greenhouse or conservatory. (RPS.com)
IMAGE GALLERY

Carara National Park, Gift shop area. 2008 costa Rica. 2008 IPS Biennial. " With Jeff Searle (of Searle Brothers Nursery, FL.) lending a helping hand; Forum member Robert Wilson (Trinidad! Bob) shimmies up one stem and cuts off one of the first, fruit-laden infructescences to become victim to Bus #4's undying thirst for palm seed.Photo by Ryan D. Gallivan.
External Links
References
Phonetic spelling of Latin names by edric.
Special thanks to Geoff Stein, (Palmbob) for his hundreds of photos.
Special thanks to Palmweb.org, Dr. John Dransfield, Dr. Bill Baker & team, for their volumes of information and photos.
Glossary of Palm Terms; Based on the glossary in Dransfield, J., N.W. Uhl, C.B. Asmussen-Lange, W.J. Baker, M.M. Harley & C.E. Lewis. 2008. Genera Palmarum - Evolution and Classification of the Palms. Royal Botanic Gardens, Kew. All images copyright of the artists and photographers (see images for credits).
Heatubun, Ch.D.2009. A monograph of Cyrtostachys (Arecaceae). Kew Bulletin 64: 67-94.

Many Special Thanks to Ed Vaile for his long hours of tireless editing and numerous contributions.