Coccothrinax barbadensis
From Palmpedia - Palm Grower's Guide
Coccothrinax (koh-koh-TRIH-naks)
barbadensis (bar-bah-DEN-sis)

Cocothrinax barbadensis.
Scientific Classification
Genus:
Coccothrinax (koh-koh-TRIH-naks)
Species:

barbadensis (bar-bah-DEN-sis)
Synonyms
Old Name, Coccothrinax alta
Native Continent
America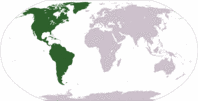 Morphology
Culture
Survivability index
Common names
Tyre Palm, Silver Thatch Palm, Puerto Rican Thatch Palm.
Habitat and Distribution
Coccothrinax barbadensis
is found in the Leeward Is., Trinidad-Tobago,
Venezuelan Antilles, Windward Is.
Originates in the rainforests of Puerto Rico and the Virgin Islands, in the Caribbean. It is found on limestone substrates in northern Puerto Rico, and on volcanic substrates on the islands off eastern Puerto Rico. It has been recorded from Puerto Rico proper, Vieques and Culebra; Saint Croix, Saint Thomas, and Saint John, in the U.S. Virgin Islands; and Guana Island, Tortola, and Virgin Gorda, in the British Virgin Islands. It is found on lower elevations, but to 350 m above sea level.
Grows on low hills and slopes in Puerto Rico, the Virgin Islands, Lesser Antilles, including Barbados, and the peninsula of Venezuela. Natural habitat: Coastal vegetation, often calcareous soil. Cultivated in Barbados, the tree grows on extremely thin limestone-based soils in full exposure to sun and wind without irrigation
Description
Trunk type: Solitary. Leaf detail: Costapalmate, an open crown. The leaves have slightly drooping tips, and a silvery underside. Exceptionally tall and slender, palmate-leaved, single-trunked palm. The trunks look like flagpoles. The leaves are somewhat silvery beneath. The trunk is bare. Very erect stems, to 15 m tall, (usually shorter in cultivation), up to 18 cm in diameter, with faint rings from leaf scars. The upper reaches of older palm stems are covered with burlap-like woven fibers from old leaf bases, as are stems of young palms. Leaves: Costapalmate, induplicate, with blade (about 1.5 m across), divided up to two-thirds its length, narrow segments that droop at the tips. Leaflets become narrower toward the tips, with an abrupt transition zone called the "shoulder." The upper leaf surface is bright green, with a yellow halo surrounding the raised triangular hastula; the undersurface, silver-gray; leaftips, bifid; transverse veinlets are obvious. The fibrous leaf sheath has two layers, and the unarmed petiole, is not split at the base. Flowers and fruits: Inflorescence is shorter than the leaves, to 1.5 m long, branched to two orders, with up to 10 primary branches. Monoecious, the yellow flowers have both male and female parts. The fruits are spherical (6-12 mm in diameter), and purplish-black when ripe. Editing by edric.
Culture
Requirements: Full sun, fair to moderate water, well drained position. Cold Hardiness, USDA zones 10b
Comments and Curiosities
A slow growing palm, with a single bare trunk below, and matted with fibres above. The trunk can grow up to 2–8 m. tall, with some individuals getting up to 11 m. Flowers are light yellow, and fruit are purple-black when ripe. The graceful, drooping, green fan leaves are silver underneath.
With trunks up to 15 m (50 ft) tall, this fine species is one of the tallest, fastest, and most robust in the genus. The big, circular leaves have up to 60 flexuous segments and are a beautiful silvery-gray below. C. barbadensis is widely distributed in the Caribbean and will do well in subtropical and tropical climates. It can take considerable coastal exposure. (RPS.com)
External Links
References
Phonetic spelling of Latin names by edric.
Special thanks to Geoff Stein, (Palmbob) for his hundreds of photos.
Special thanks to Palmweb.org, Dr. John Dransfield, Dr. Bill Baker & team, for their volumes of information and photos.
Glossary of Palm Terms; Based on the glossary in Dransfield, J., N.W. Uhl, C.B. Asmussen-Lange, W.J. Baker, M.M. Harley & C.E. Lewis. 2008. Genera Palmarum - Evolution and Classification of the Palms. Royal Botanic Gardens, Kew. All images copyright of the artists and photographers (see images for credits).

Many Special Thanks to Ed Vaile for his long hours of tireless editing and numerous contributions.